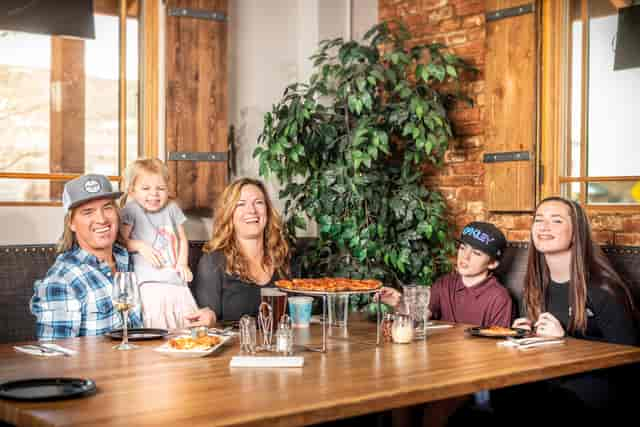 Peavine Taphouse Eats & Beats Provides Family-Friendly Dining, Pizza Delivery and Pickup, Entertainment, and Artisan Coffee from Coffeebar
Peavine Taphouse Eats & Beats Provides Family-Friendly Dining, Pizza Delivery and Pickup, Entertainment, and Artisan Coffee from Coffeebar
Peavine Taphouse Eats & Beats in Somersett town square in Reno, NV, is a restaurant and entertainment venue that opened to much local acclaim only a few months before the COVID-19 outbreak. When it opened on Jan. 1, 2020, the restaurant and musical entertainment venue facilitated a much-needed, family-friendly gathering spot for Somersett and surrounding residents.
During the pandemic, the restaurant and taphouse has developed creative ways to serve customers by opening a drive-through window for easy ordering and pickup, in addition to a new drive-through morning coffee and breakfast service, featuring artisan coffee from Reno's much-loved coffee shop Coffeebar.
Pizza, Tapas, and Family
When your family is looking for a delicious and affordable option for a dine-in dinner, take-out, or delivery, Peavine Taphouse Eats & Beats features artisan thin-crust style pizza and flatbreads roasted in a state-of-the-art brick oven along with healthy salads, soups, and worldly infused shared plates.
Twenty craft beers, craft cocktails, and stellar wines are also available for dine-in and takeout.
When it comes to the food and beverages offered at Peavine Taphouse, the online reviews speak for themselves:
"Love the pizza. Reminds me of Italy."

"Their pizza is delicious! Love the drive through too. Got some beers after a mountain bike ride with my husband. Can't wait to try their breakfast selections!"

"Wings are GREAT! Big and meaty! Favorite place for wings!!"

"This place has a great vibe, energy and happy hour to match it! The Brussels Sprouts with Bacon is a must with a cold beer. This place is doing it right!"
Dinner service runs from 4 p.m. to 8 p.m. Monday through Thursday, 4 p.m. to 9 p.m. Friday and Saturday, and 4 p.m. to 8 p.m. on Sunday.
All dinner items, including cocktails, beer and wine, are available for dine-in service with reservations, or ordered and paid for in advance on the website and picked up at the drive-through window or delivered to your home.
World-Class Entertainment
Once COVID-19 restrictions are lifted, Peavine Taphouse Eats & Beats will continue to offer an eclectic line up of world-class live music and entertainment on weekend evenings on its state-of-the-art stage.
According to owner Matt Reardon, the concept of the venue always included live music.
"Music brings people together in a very special way," he says. "We're looking forward to hosting highly-talented and well-known bands for families to enjoy in the very near future. Stay tuned!"
Gourmet Coffee In the Heart of Somersett
Peavine Taphouse Eats & Beats' new partnership with Coffeebar is designed to offer daily commuters on Somersett Parkway the finest quality coffee in the most efficient amount of time, in addition to fresh breakfast items and smoothies.
Coffeebar opened in Midtown Reno in early 2014 and has since become an institution to the neighborhood and the Reno community as a whole.
"We brought specialty coffee to Reno in a way that it hadn't been executed before. Free of pretension and full of heart," said Coffeebar Founder Greg Buchheister. "Keeping our core principles at heart and our unwavering dedication to offering artisan food and drink, this partnership with Peavine Taphouse is a perfect melding of the concepts and values that both of our establishments were founded on," Buchheister said.
Peavine Taphouse's Coffeebar selections include:
Zephyr - Our full-bodied and balanced espresso blend with notes of milk chocolate, cherry, and vanilla is perfect to propel you throughout the day, from your morning espresso shot to your afternoon latte.

Giuseppe - Inspired by the darker, richer coffees served in Southern Italy, the Giuseppe is a crowd pleaser with notes of dark chocolate, nutmeg, and molasses.

Vertical Reserve Single-Origin - These seasonally-rotating coffees highlight our producer and importer partners and the unique flavors of different regions.
"When the restaurant opened, the concept was based on offering the community an experience and a place to enjoy artisan food, craft beer and cocktails, and eclectic live musical performances," Reardon says. "During these times, we still want to offer people an experience - just in a different way. In addition to our dinner offerings, customers can now indulge in the finest coffee Reno has to offer with grab and go breakfast items and smoothies for convenience."
Coffee, breakfast items, and smoothies are served from 7 a.m. to 11 a.m. Monday through Friday, and 7 a.m. to 12 p.m. on Saturdays and Sundays. Items can be ordered and paid for in advance from the Peavine Taphouse website and picked up at the drive-through window, or enjoyed on the patio.
When it comes to your next craving – morning or night - Peavine Taphouse Eats & Beats has you covered. If you would like to make dine-in reservations, visit us on our website. We can't wait to serve you!
Service staff are equipped with certified PPE masks and gloves to protect the health and safety of staff and customers.